Egg and Bacon Pie
Jump to Recipe
There's a wonderful feel about egg and bacon pie – something reassuring about the sense of simplicity, old style homeliness and 'tradition'. It's unusual (for us anyway) to have things like this these days, but it's an old blast drawn from the pages of the 'Golden Wattle' cookbook.
Egg and bacon pie has some sort of sentimental attachment for me, as my Mum used to make it just like this, for no other reason than the Golden Wattle connection I expect. I have a very vivid memory of being on a short family holiday with my parents when I was a teenager and standing eating chunks of this while standing under the verandah of an old historic home as it poured with rain. The weather was forgettable but the location and the pie was not. Egg and bacon pie is the perfect picnic food, delicious when eaten cold, but also equally capable of holding its own served warm with vegetables or salad. With both pastry and bacon it is most definitely not low in fat, so a few vegetables never go astray just so you can have some minor feeling of being virtuous.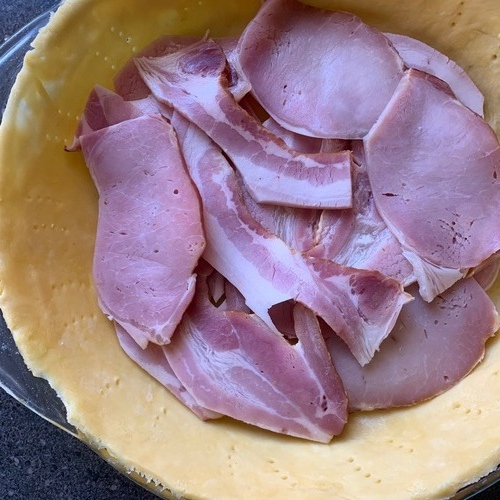 Line a pie dish with half the pastry and add the bacon pieces.
In the Golden Wattle there are two recipes for egg and bacon pie, written in the characteristically terse prose of this book. In a triumph of editorial creative thinking the recipes are called egg and bacon pie (No. 1) and egg and bacon pie (No. 2). I've never tried number two, first because number one is so good and there seems no need to go past it, and because number two is more in the style of a quiche, for which there are plenty of recipes. One of the other delightful charms of this recipe is that the eggs remain effectively whole rather than being beaten, providing for a contrast as you eat it between the different parts of the egg.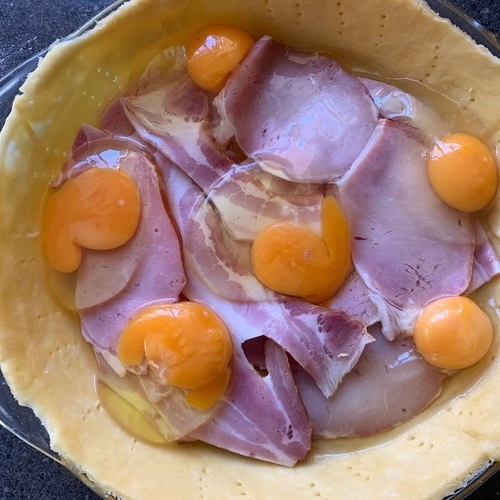 Break in the eggs and prick the yolks.
It interests me that this is called egg and bacon pie, and I continue to call it that despite having to fight the 'muscle memory' of wanting to call it bacon and egg pie. I've always been intrigued by the fact that some things tend to go naturally together in one order rather than the reverse, another example being salt and pepper. We extend this principle to many things, the one that most comes to mind for me being couples (as in friends and relations). It's more common to think of 'Janet and John', for example, than it is 'John and Janet', or for people of my vintage Dick and Dora, and Nip and Fluff!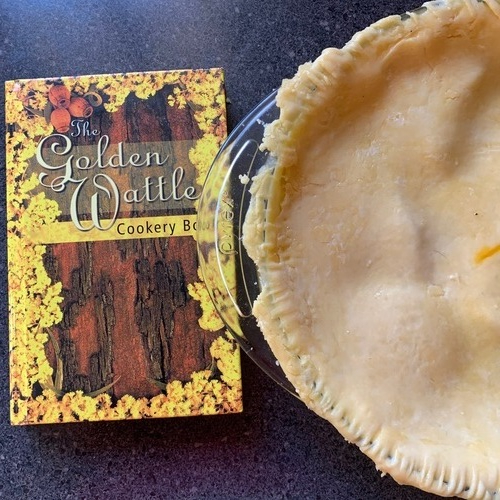 Top with the other half of the pastry and glaze with the egg white.
The quantities I've provided here are sufficient to make a pie in a 22-24 cm pie dish for four people, but as usual you can adjust the quantities to suit. When making the pastry I personally don't think you can go past the Rachel Khoo method, for which I have provided instructions here, but if you have your own preferred way of making shortcrust pastry then do it that way.
I hope my waxing lyrical about this pie will be sufficient for you to give it a try. Do let me know how you fare.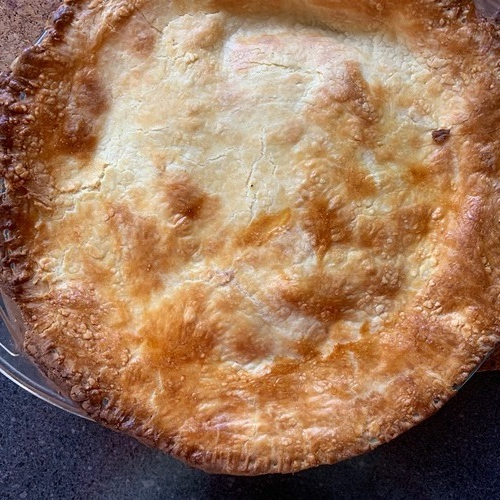 Cook until it looks good enough to eat.
Comments or questions? Leave a comment below or like my Facebook page.
Follow me on Instagram.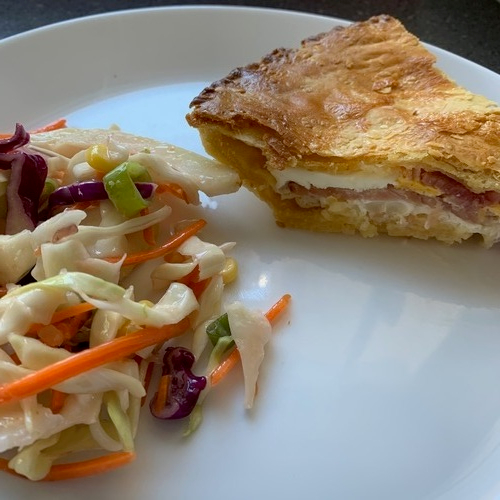 Et voila!
Egg and Bacon Pie
Cooking: About 20 minutes
Serves: 4

Ingredients:
Pastry:
135g soft butter or margarine
1 teaspoon sugar
Pinch of salt
270g plain flour
3 egg yolks (keep the whites to glaze the pastry)
ice water
Filling:
5-6 rashers middle bacon, trimmed and cut into thirds
5 eggs
Directions
Before you start making the pastry, put about half a dozen ice cubes in a glass and cover with water to provide the ice water later.
Put the butter, sugar and salt in a bowl and beat with a wooden spoon until it turns pale and creamy and is really soft.
Stir in the flour until the mixture looks like a breadcrumb mix. If you've made pastry by the traditional rubbing-in method before then it should look about the same.
Add the egg yolks and 3 tablespoons ice water and mix to combine, then use your hands to just bring it all together and knead slightly.
Wrap the pastry in clingwrap and put it in the fridge overnight if possible, but an hour at least. Take the pastry out of the fridge about 30 minutes before you're ready to use it.
Preheat the oven to 200ºC.
Cut the pastry in two halves. Roll out the first half between two sheets of baking paper to fit the base and sides of a 24cm pie dish. Prick all over with a fork and brush with egg white.
Lay the bacon pieces on the pastry base, then break the eggs in prick the yolks with a fork. Season with pepper.
Roll out the other pastry half to cover, press the edges together to seal and brush with egg white. Poke a hole in the centre with a knife to allow steam to escape.
Bake in the oven for 15-20 minutes until brown and crispy.