Aloo Matar Paneer
Jump to Recipe
In his book 'Bills Basics' (which I thoroughly recommend), Bill Granger says that he stopped eating meat when he was in India, because the choice of vegetable dishes was so vast. Having recently returned from India, just in time to beat the worst of the Covid-19 madness, I know exactly what he means.
We had exactly the same experience, apart from once in Delhi when we had a dish called Tangri Kebab, which was the single best chicken I have ever had. It is served as a plate of 5 drumsticks and Ms Onion joined me after I had ordered and commenced eating, having said she wasn't having any. But then, in an apparent flagrant disregard for any moral qualms she may have been having about animal welfare, she devoured half mine with ecstatic utterances and we ordered another plateful.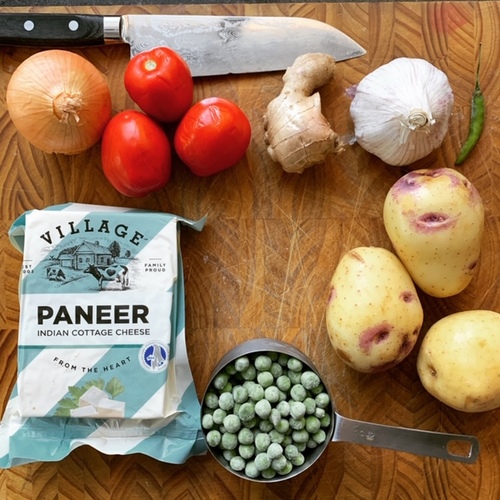 For the ingredients, you'll need (clockwise from top left) an onion, tomatoes, ginger, garlic, a chilli, potatoes, peas and paneer.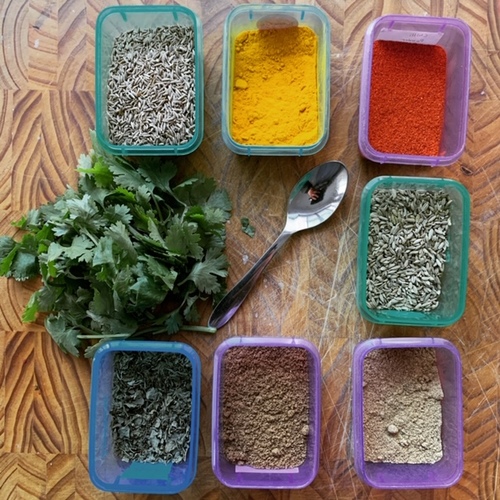 The spices(clockwise from top left), cumin seeds, turmeric, kashmiri chilli powder, fennel seeds, ground coriander, garam masala, methi and coriander.
As well as being a country that is really easy to fall in love with, there is simply no need to eat meat in India. You sort of have to go out of your way to find a place that serves meat, although we did have a couple of funny experiences with the locals trying to cater to our Western sensibilities. At one hotel, where they had hosted a wedding the night before, we went down to breakfast to find the restaurant pretty packed with the wedding guests, most of whom were staying there. After grabbing a plate of food a waiter came over and asked us if we would like some chicken sausages, which we politely but somewhat perplexedly refused. Then the manager came over to check that we really didn't want any chicken sausages, on account of the fact that the restaurant was full of wedding guests and consequently they had an entirely vegetarian spread. At another place we went for dinner in Agra the manager told us he could offer us fish fingers if we wanted them!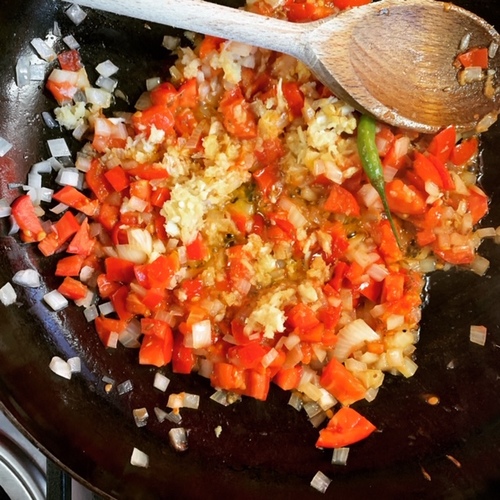 Cook the onion, tomato, garlic, ginger and chilli to soften.
Restaurants typically have menus with dozens of items much like a Chinese restaurant here. It helps to have a local with you, as we did for a week, to help you try a few new things and get your eye in. I also took lots of photos of those menus, and the food we ate, in order to give myself some inspiration and names of dishes to refer to and cook once we got home.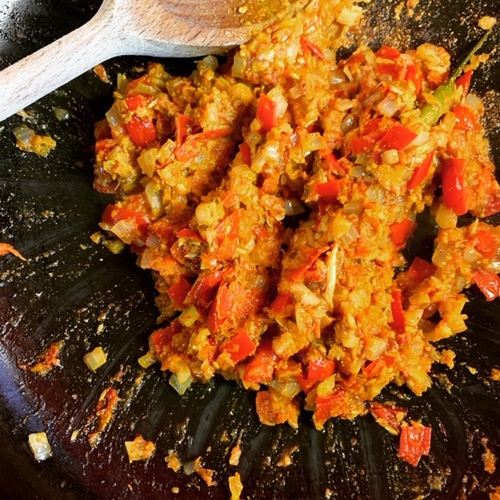 Add the spices once the mix is softened and most of the liquid has evaporated.
Since we've come back I've cooked a lot of curries and Indian dishes, and we haven't felt the need to go back to eating meat. Ms Onion has turned completely vegetarian, while I can't quite make that complete leap and would say I'm almost vegetarian, or perhaps partial vegetarian as famous Indian cook and writer Madhur Jaffrey describes herself. Last Friday doing our weekly shopping, about the only opportunity we have for getting out of the house at present, I felt the need to tell our butcher the sad news. He was never going to get rich and retire on the amount of meat we bought anyway, but I didn't like to think of him imagining I had abandoned him and was purchasing my meat in plastic trays from one of the big two Australian supermarket duopoly. I don't think I could ever 'come out', as it were, to my many friends who are beef graziers across the rangelands of this country!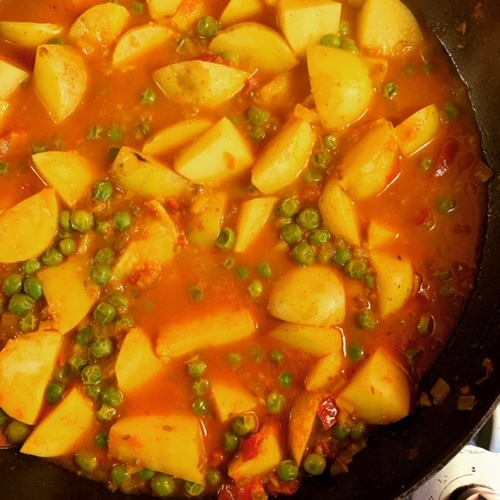 Cook until the potatoes are softened and the sauce has thickened.
One of our favourite dishes off the menus was Aloo Matar, literally potatoes and peas. We've also had it about once a week since our return in the form of Aloo Matar Paneer, which obviously enough is just Aloo Matar with some paneer thrown in. This came about because once we got back I discovered my son's favourite dishes are those that contain paneer, a fresh unaged cheese that is common in India. It has a mild milky flavour and a dense crumbly texture and it's readily available from your local Indian supermarket. I noticed the other day that it's even available in the fridge section of my preferred duopoly member. Apparently paneer is also very easy to make, so I intend to try that soon and I shall report back in due course.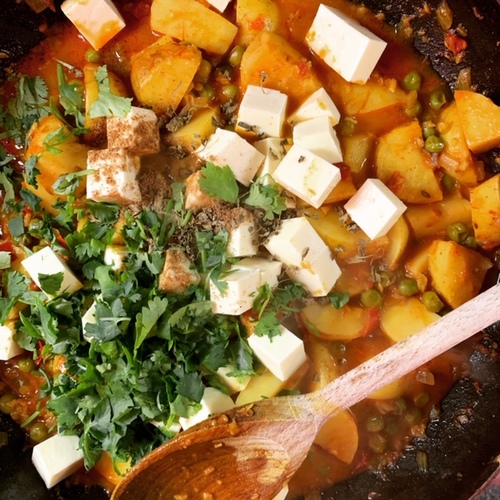 To finish, add the paneer, methi, garam masala and coriander.
Like many Indian curries Aloo Matar Paneer is very easy to make. You start by making a 'masala' by frying some onions, tomatoes, garlic and ginger, then adding some spices. Add the potatoes, some frozen peas and water, bring the whole lot to the boil and simmer until the potatoes are tender. Right at the very end throw in some paneer to heat through and soften, add a few finishing spices and it's done. Serve it with some chapatis or naan, or rice if you prefer. With a little practice chapatis are very easy to make, and Ms Onion has become the undisputed queen of making and rolling chapati dough, to a standard that would satisfy the fiercest critic at an Indian wedding. I'll write about that experience, and how to make chapatis soon, but in the meantime here is a very good recipe from BBC Good Food.
This recipe for Aloo Matar Paneer I've adapted from an original at Veg Recipes of India, a website I can recommend if you're looking for this sort of thing. I've modified it quite a bit to suit our taste, most notably the original recipe blends the onion, garlic, ginger and tomatoes into a paste but I prefer to keep it a bit chunky.
I hope you enjoy it as much as we do.
You can leave comments or questions below if you like. I've also got pages on social media and you can join us over there: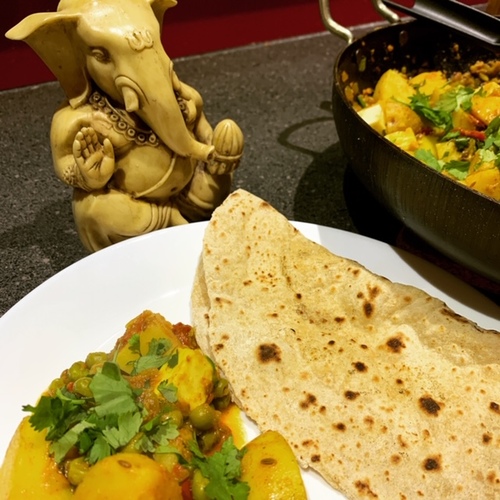 Aloo Matar Paneer
Cooking: About 20 minutes
Serves: 4

Ingredients:
2 tablespoons vegetable oil
1 large onion, finely chopped
2-3 tomatoes, finely chopped
4-5 cm piece ginger, crushed (2 teaspoons chopped ginger)
4-5 garlic cloves, crushed (2 teaspoons chopped garlic)
1 green chilli - chopped (seeds removed if you like)
1 teaspoon cumin seeds
1⁄2 teaspoon turmeric powder
1 teaspoon kashmiri red chilli powder
1 teaspoon fennel seeds
2 teaspoons ground coriander
500g potatoes, diced
1 cup frozen peas
2 cups water
150 grams paneer, cubed
1⁄2 teaspoon garam masala powder
1⁄2 teaspoon kasuri methi (dry fenugreek leaves)
2 tablespoons coriander leaves, chopped (reserve some for garnish)
salt, to taste
Directions:
Heat the oil in a karahi or deep, heavy based pan over a low-medium heat. Add the cumin seeds and fry for a few seconds until they start to sizzle.
Add the onion and tomatoes and cook gently until they begin to soften, then add the ginger, garlic and chilli. Reduce the heat to low and cook for about 10 minutes, or until it softens down and most of the liquid has evaporated.
Add the turmeric, chilli powder fennel seeds and ground coriander and stir to combine.
Add the potatoes, peas and water, plus salt to taste, and mix well
Bring to the boil, reduce heat and simmer, covered, for about 15 minutes or until the potatoes are cooked and the sauce has thickened.
Now add the paneer, garam masala, methi and chopped coriander, stir together to combine and cook for a few minutes to allow the paneer to heat through and soften slightly.
Remove from the heat, garnish with the reserved coriander and serve with chapatis or steamed rice.
Notes:
Kasuri methi (dried fenugreek leaves) and Kashmiri chilli powder are available at Indian grocery stores.
Kashmiri chilli powder is milder than normal chilli powder, so take note if you substitute.