Kedgeree (and keeping a food diary)
Jump to Recipe
Since 2010 I've kept a food diary – a record of the meals I've made and the things we've eaten virtually every day since then. What would be the purpose of doing such a thing, do I hear you ask? Read on, and note the stylish segue to the recipe for kedgeree.
Keeping a food diary is probably a bit of a nerdy thing to do but it does have some practical uses as well as being a nice reminder of events and the food that accompanied it, or perhaps who it was shared with. In mine I record the food we ate for dinner on any particular day, the source of the recipe if it's something new to the repertoire, whether it was good, bad or indifferent, if it's easy or hard to make, and in the case of the latter whether it is worth the extra effort.
I also note any significant events of the day, so for example I can tell you that on the 21st January 2013 we had dinner late, as we had that afternoon been up to the hills to collect a puppy, the first of our two whippets. That night we had a bacon macaroni bake.
I find the greatest value in my food diaries is as a source of inspiration and as a reminder of dishes that have slipped off the radar, once popular that we may not have had for a very long time. Every so often I lack a bit of inspiration in preparing the weekly menu, and at such times I often open a random diary at a random week and see what we were eating back then.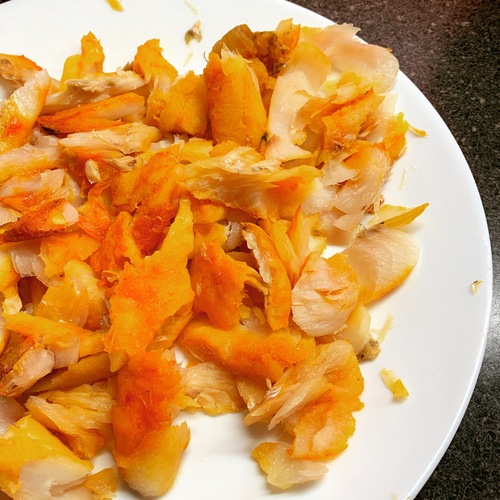 Poach and flake the fish.
One dish that appears fairly regularly through the diaries is kedgeree, that wonderful dish appropriated by the British colonists of India and modified to their tastes, and then brought home with them to the shores of the mother country in Edwardian times. Generally considered a breakfast dish, in our place we eat it as a main meal for dinner.
Gently combine the flaked fish with the rice mixture.
Kedgeree, or as my son once called it 'that yellow rice fish thing', consists of a mixture of rice, onion and fish, headily spiced up with curry powder, then topped with boiled egg and garnished with parsley. Most traditional British recipes use smoked haddock, not very readily available here in Australia, or more contemporary ones use smoked trout, but I have a weakness for South African smoked cod, that bright yellow fish available in supermarkets that we have always called South African fillet. There's an element of sentimentality involved for me here, as when I was very young our family used to make an annual pilgrimage for Easter to Busselton, a south-west coastal town, where kedgeree always seemed to be a part of that tradition. No doubt there was some sort of Easter fish superstition going on.
Do you keep a food diary, or if you did would you have a few recipes that popped up on a regular basis? Let me know in the comments.
Comments or questions? Leave a comment below or like my Facebook page.
Follow me on Instagram.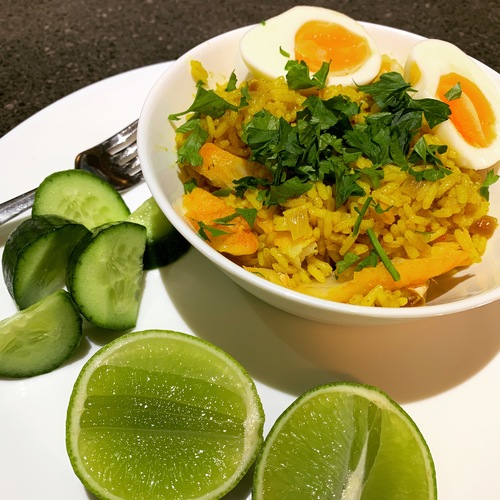 Kedgeree
Cooking: About 25 minutes
Serves: 4

Ingredients:
300g smoked cod fillets
1 tablespoon olive oil
1 tablespoon butter
1 red onion, finely chopped
1 clove garlic, finely chopped
2 cm piece fresh ginger, peeled and grated
1 teaspoon curry powder
250g (1 1⁄4 cups) basmati rice (or any long grain rice)
salt and pepper, to taste
3 hard-boiled eggs, quartered
a handful of parsley leaves, roughly chopped
lime wedges, to serve
1⁄2 cucumber, sliced, to serve
Directions
Bring enough water to just cover the fish fillets (about 1cm) to the boil in a frypan, then turn down the heat and gently poach the fish until it is cooked and flakes easily. Remove the skin and any stray bones, and flake the fish.
Heat the oil and butter in a large saucepan over medium heat. Add the onion and cook until softened, then add the garlic, ginger and curry powder and cook for another minute or two until aromatic.
Add the rice to the pan and stir until evenly coated with the curry and oil mixture, then add 500 ml water, bring to the boil and reduce heat to a simmer. Cover and cook for 15 minutes or until all the water has been absorbed.
Remove from the heat, add salt and pepper to taste and gently stir in the fish. Serve topped with egg and parsley leaves, with lime wedges and cucumber on the side.