Portugese chicken rice
Jump to Recipe
Every cuisine has its distinctive dishes and characteristics, and it's partly that variety that fascinates me and no doubt keeps us all interested in food. As with music, where I am constantly amazed at the different ways of putting eight notes together into something unique and new, so it is with cooking and the different ways of combining ingredients. Each cusine not only seems to have its own style but also borrows elements from other nations as people moved around the earth and made contact with each other and new ingredients over the ages.
Some of my favourites are Indian food, which if you've been following along previously should come as no surprise, and the food of the Middle East, from which Indian food borrowed heavily, particularly from Persia, in developing its own distinctive style. Another is Portuguese food, which takes it one step further and combines the Moorish styles of Morocco with all the other bits and pieces this once great seafaring nation managed to find in their travels. Need I say more than "Nando's" (sidenote: I've discovered during writing this the correct spelling is Portuguese, not Portugese, which has been a tough habit to break.)?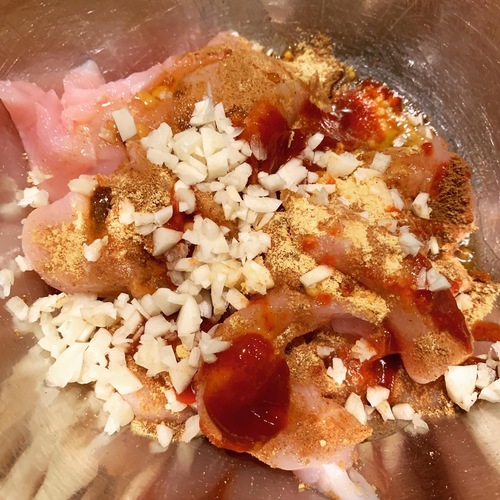 Combine the chicken with the marinade ingredients.
A few years ago Ms Onion and I went to Macau with one of our sons. Macau is not far from Hong Kong and is now an administrative region of China but until 1999 it was Portuguese territory, in much the same way that Hong Kong was held by the British. Consequently it has this weird mix of Portuguese colonial architecture and streets in the central portion of the town, including the World Heritage listed ruins of St Paul's Church, all surrounded by huge and tacky casinos for which Macau is well known. One odd thing at the time of our visit was to find a big red blow‑up Chinese arch thing in the centre of one of the squares and surrounded by historic Portuguese buildings, as it was the time of the mid-autumn mooncake festival at the time of our visit.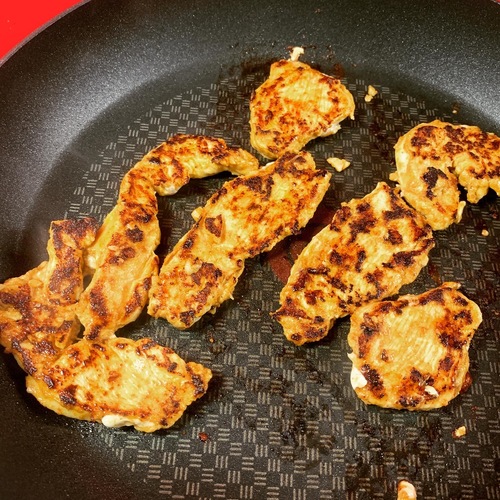 Cook the chicken until cooked through and the surface is nicely charred.
I was, unsurprisingly, most excited by the afforded opportunity of eating some Portuguese food, having never been to Portugal, and I'm pleased to report I wasn't disappointed. We ate at a number of lunch spots and restaurants, with the most memorable meal for me being lunch of char-grilled sardines next to the open-shuttered windows on the second floor of an old Portuguese style building (and coincidentally overlooking the square with the red inflatable edifice mentioned above.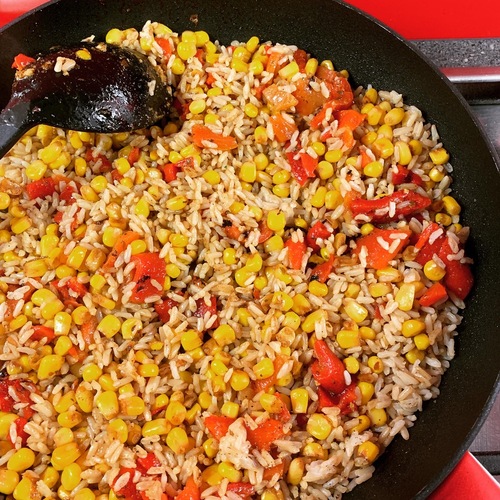 Cook the rice mixture.
This recipe of chicken with rice is very quick and easy to make and makes for a great midweek meal, combining some great Portuguese flavours and that slightly charred flavour that is so very characteristic. It would no doubt make for a great lunch as well if there's any leftovers, a seemingly increasing rarity in our house for some reason.
I hope you enjoy it.
Comments or questions? Leave a comment below or like my Facebook page.
Follow me on Instagram.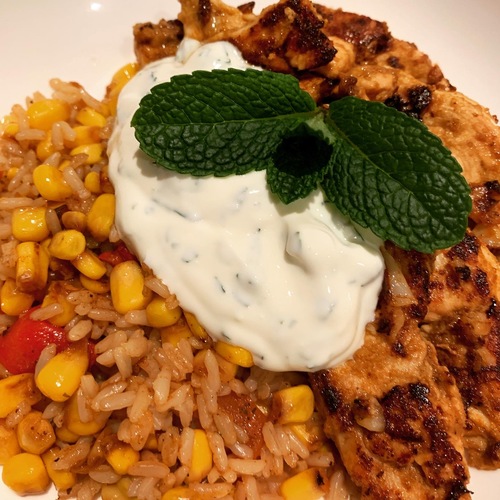 Portugese chicken rice
Cooking: About 10 minutes
Serves: 4

Ingredients:
2 chicken breasts, each sliced into 4-5 pieces (or use tenderloins)
1 tablespoon ground cumin
2 teaspoons mustard powder
2 tablespoons chilli sauce
1 tablespoon olive oil
2 garlic cloves, crushed
420g can corn kernels, rinsed, drained
100g chargrilled capsicum, chopped
250g pkt microwavable brown rice
2⁄3 cup Greek yoghurt
2 tablespoons mint, finely chopped
Directions
Combine chicken, cumin, mustard powder, chilli sauce, oil and half the garlic in a large bowl.
Cook the chicken for about 3 minutes each side or until cooked through. Transfer to a plate and cover with foil to keep warm.
Add the corn to the pan and cook, stirring, for about 3 minutes. Add the rice and capsicum and cook for a further 2 minutes to heat through and season to taste.
Whisk the yoghurt, mint and remaining garlic together in a bowl and season to taste.
Serve the chicken and rice topped with yoghurt mixture.