Homity Pie
Jump to Recipe
One of the most popular pictures I've put up on Instagram recently has been one for Homity Pie. Strange name.
If you google homity pie looking for information and recipes it turns out to be one of those things where the recipe is reasonably well known but the origins of both the dish and the name are a bit more cloudy. General consensus seems to be that it came out of World War II rationing and was thought up by the Women's Land Army as something to make with what was available.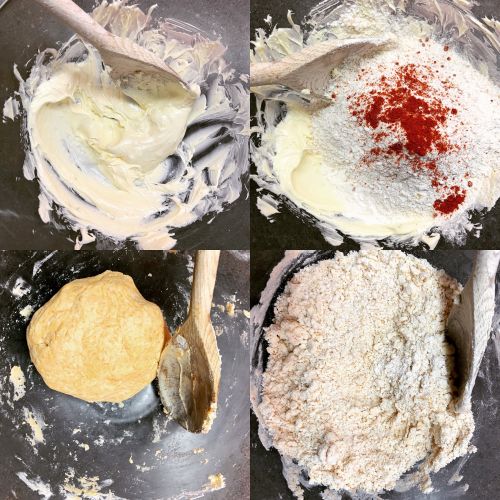 Pastry making steps - clockwise from top left.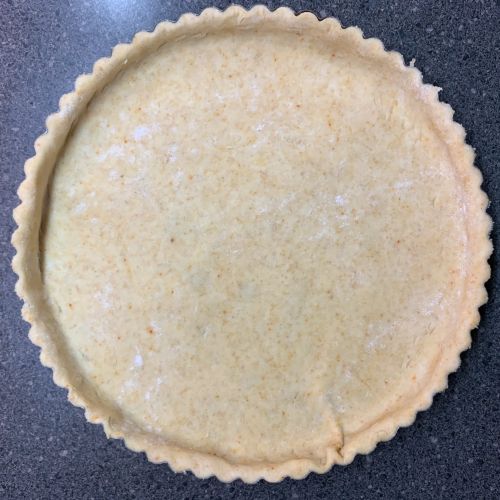 Roll out the pastry and line a loose-bottomed tin.
I'm always a bit suspicious of these sorts of stories, which can get a life of their own, ever since I learned of the great "Throw away the unopened mussels" myth. That one probably started around 1973 and perpetuated from there, so they're not restricted to these internet days. There's plenty of them out there, one of my favourites being the "Vitamin C for a cold" myth. Luckily neither of these myths are really doing much harm, except for wasting seafood and making your wee expensive respectively, but there are some others that are not so benign, spreading more rapidly since late 2016 apparently.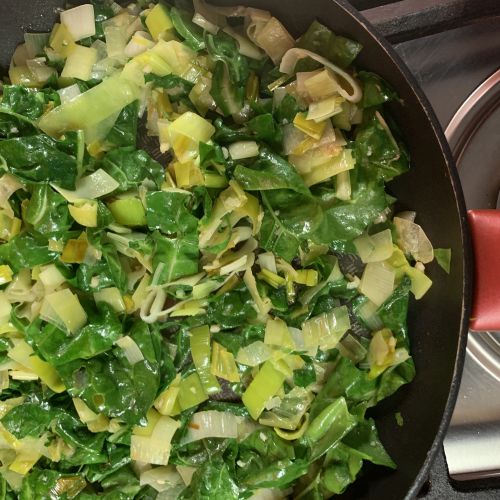 Cook the leeks and spinach until soft.
Anyway, whether the homity pie story is true or not it's nice to think of a group of land girls spending their evenings after a hard day in the fields thinking up ways to combine potatoes and leeks into something edible, and they did a particularly good job of this one. The name may well be just the slurred version of one of their surnames after a particularly big night on the brown ale.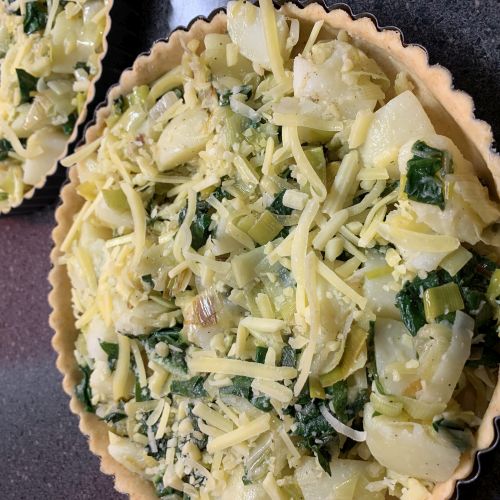 Combine all the filling ingredients and add them to the pastry case.
I can't remember now how I heard about Homity Pie - it probably just popped up while I was doing my usual trawling of the Interweb thingy for recipes of interest. This one I've adapted from a recipe at Olivemagazine.com and it is really wonderful. As you might expect from a recipe dreamed up by a group of tired girls who just spent their day labouring away for the war effort, it's very simple and quick to make. While it's in the oven you can run round and check the blackout on all the windows.
You can leave comments or questions below if you like. I've also got pages on social media and you can join us over there: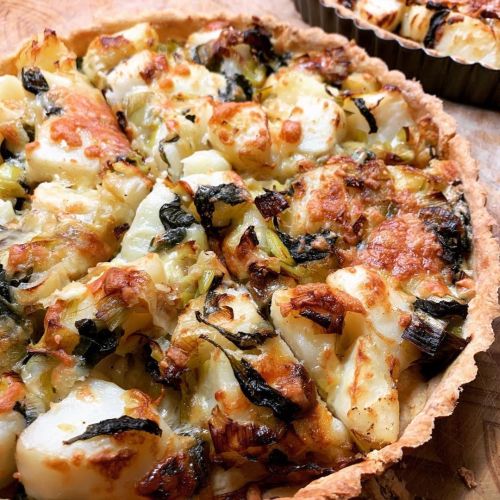 Homity pie
Cooking: About 40 minutes
Serves: 4

Before you start making the pastry, put about half a dozen ice cubes in a glass and cover with water to provide the ice water later.
Ingredients:
Pastry
100g butter, softened
100g plain flour
100g wholemeal flour
1⁄4 teaspoon smoked paprika
1 egg, lightly beaten
Filling
600g potatoes (about 3), peeled and chopped
1 tablespoon olive oil or butter
2 leeks
1 garlic, crushed
200g spinach, roughly chopped
1⁄4 cup grated mozzarella (or another soft cheese - ricotta works ok)
150g mature cheddar, grated salt and pepper to taste
Directions:
Cream the butter and salt together in a bowl with a wooden spoon until pale and creamy.
Stir in the flours and paprika until the mixture looks like a breadcrumb mix.
Add the egg and 2 tablespoons ice water and mix to combine, then use your hands to just bring it all together and knead slightly.
Wrap the pastry in clingwrap and put it in the fridge for an hour, and overnight if possible.
Take the pastry out of the fridge about 30 minutes before you're ready to use it, then roll it out between two sheets of baking paper to fit the base and sides of a 24cm quiche tin or pie dish (a loose bottomed tin is good if you have one). Return to the fridge while you make the filling.
Boil, steam or microwave the potatoes until just tender and drain well.
Heat the butter or oil in a frypan over medium heat, then add the leeks and cook until soft. Add the garlic and cook for a further minute.
Add the spinach and cook until wilted, then stir through the mozzarella.
Combine the leek mixture, potatoes and 3⁄4 of the cheddar in a bowl and season to taste.
Tip into the pastry case, top with the remaining cheese and bake for 40-45 minutes until golden. Allow to cool in the tin for 10 minutes before serving.