Handling a dinner party (and a recipe for Artichoke dip)
Jump to Recipe
I got an email last week from a friend seeking my help for a dinner party he was proposing to hold in a few weeks. Dear Mr Onion, it began…
The general premise of the request was that he was going to be holding a dinner party for about 10 of his pushbike riding friends in a few weeks, but his kitchen is, and I quote, "pretty shit". He was therefore looking for something to make for which most of the work could be done during the day and was relatively simple to tackle.
These days I always think this is pretty good thinking anyway. There was a time I would spend ages preparing something fancy, but these days I tend to go for things that are much simpler - everyone seems to enjoy them just as much and it takes a lot of the work out of it for you. And besides, when your guests arrive you want to spend time with them, not have to leave them to have all the fun while you're stuck away in the kitchen slaving over a hot stove. My strategy now tends to be either to make something that can mostly be prepared in advance, so that I just put the finishing touches on prior to serving, or something that is intrinsically quick and easy like risotto, for example. For the latter, it still helps to have everything chopped, measured and stored in containers so all that is left is the actual cooking (a trick I learned from watching years of MasterChef).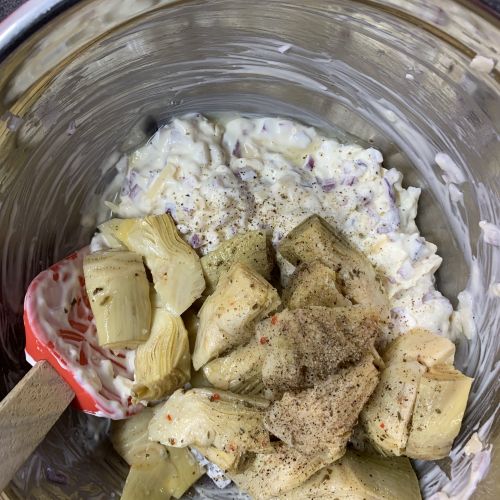 Combine all the ingredients and mix well.
Another aid I use that I have developed over the years and I find a real help is to make a timetable of events and write it on the whiteboard or stick it on the fridge. Generally you know what time you want to serve, so it's just a case of working backwards from there and writing down the key steps and what time they need to start. It needn't be complicated, but I find it useful especially if doing multiple courses.
So what did I suggest to my gastronomically challenged friend. There's a few things that need to be considered before you make a choice:


How many are coming? This influences how much you need to make, and potentially the number of choices.
Are you proposing to do just main course, or will you be adding entree and/or dessert?
Are there any vegetarians coming?
Are you going to have a theme?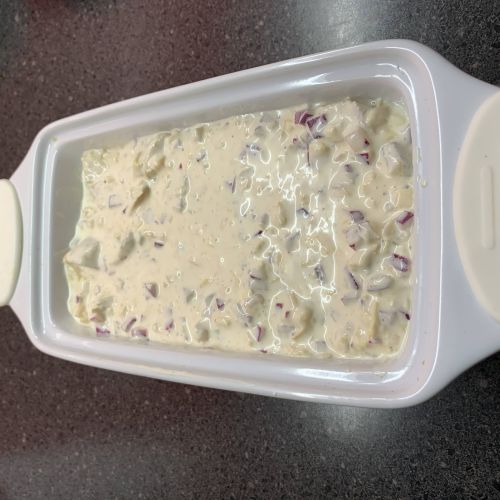 Transfer to a baking dish and put it in the oven.
With 10 people coming he probably needed two choices of main course, and with that many people there's likely to be at least one vegetarian amongst them these days. So my suggestion was to go with a Middle Eastern theme (mostly because it's my simple goto, but also who doesn't like Middle Eastern), with a choice of two mains. Serve these with some pre-dinner nibbles or a dip and optionally a simple dessert (even a store bought one) and turn into a domestic hero. For the mains, suggestions might be:


Beef and Eggplant Fatteh I've served this Nigella Lawson dish a few times at dinner parties and it's a winner. On the day (or even 2-3 days ahead), make it up to the end of step 5 where the beef and eggplant mixture is cooked. Then when it's time to serve, just reheat the mixture a bit, make up the yoghurt-tahini mix and serve it on a platter so everyone can help themselves.
Braised Chickpeas with Carrots, Dates and Feta (vegetarian). You can't go wrong with an Ottolenghi recipe, nor one that happens all in one pot. If you can't be bothered soaking and cooking the chickpeas (I assure you it's very easy) then just use about 4 tins of cooked chickpeas. On the big day have it all done in advance up to the final 'To serve' step, then just reheat and add the feta, or have it all ready in the pot and bung it in the oven about two and a half hours before you want it to go on the table. One piece of advice I have with this recipe when it goes in the oven is to put a sheet of aluminium foil between the pot and its lid to ensure a good seal, or otherwise it tends to dry out. It never hurts to also check it halfway through and add a little more liquid if needed.
For something to have with a drink prior to main course give this artichoke dip a try. Coincidentally Ms Onion and I first had it at a housewarming party of the aforementioned friend, when one of the guests had brought it along. The mix of artichokes in a hot, creamy, cheesy sauce is just delicious, and in keeping with the theme of this post, it's very simple to make.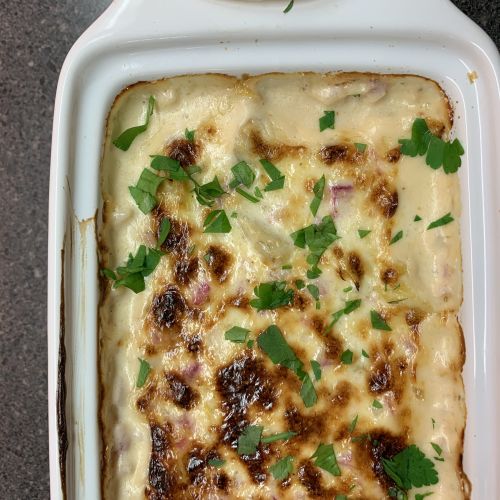 Bake for 20 minutes until hot and nicely browned on top.
You can leave comments or questions below if you like. I've also got pages on social media and you can join us over there: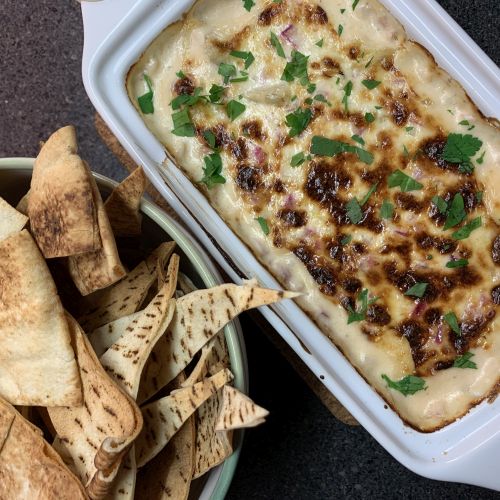 Artichoke Dip
Cooking: About 20 minutes

Ingredients:
1⁄2 cup mayonnaise
1⁄2 cup sour cream
1 cup Parmesan cheese, grated
1 small red onion, finely chopped
1 can/jar (400g) artichoke hearts, drained
1 tablespoon lemon juice
salt and pepper, to taste
Crackers or toasted pita triangles, to serve.
Directions:
Preheat the oven to 200 degrees C
Combine the mayonnaise, sour cream, Parmesan and onion together in a bowl.
Add the artichokes, lemon juice, salt and pepper and mix well.
Transfer the mixture to a shallow baking dish and bake for 20 minutes or until light brown on top.
Serve while hot.
Notes:
Marinated artichoke hearts are fine if you can't get hold of plain ones.
To make pita triangles, cut 3-4 large pitta breads into triangles, spread out on an oven tray and bake at 200C for 10-15 minutes.