Chickpea and Herb Fatteh
Jump to Recipe
The Dad's Onion kitchen is on the move! In just a few days we're heading off to India for a holiday, and as well as all the wonderful sights and experiences, I'm perhaps most looking forward to the food and the opportunity to get some ideas and expand my repertoire.
More recently, as you may have noticed, we've been eating more and more vegetarian dishes. If you've ever hung around with what I shall call 'older' people you will be aware that exceeding the critical mass of two people will inevitably and rapidly lead the discussion into a comparison of notes about their various ailments. Resist as I might those days seem to be approaching for me, and my diet can no longer successfully be pursued by the consumption of 10 burgers and a six-pack, so changes are making their way in, including the consumption of a lot less meat.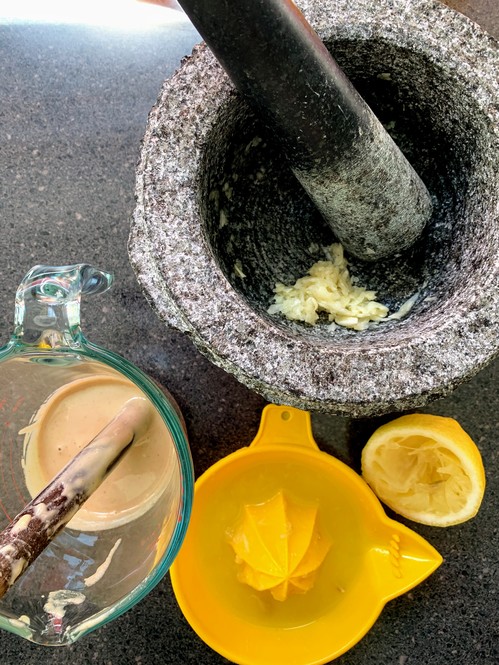 Combine all the ingredients for the tahini sauce.
At this point I had intended to write something about vegetarianism in India and some drivel that I thought I knew about most of the country, but in this case it turns out Google is not your friend. It's true that India has a much higher proportion of vegetarians than most other countries, but apparently recent surveys show it to be around 20% rather than a majority of the population like I thought. I haven't left yet and I'm already getting educated!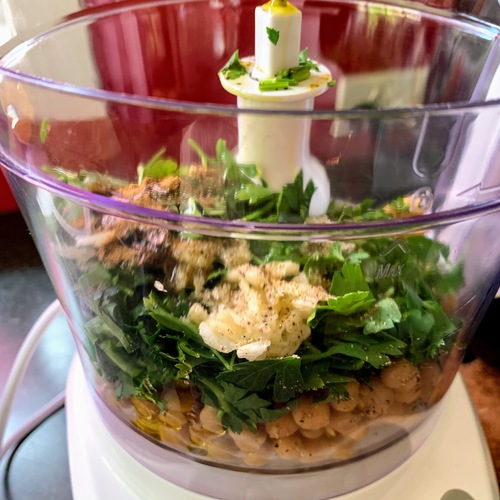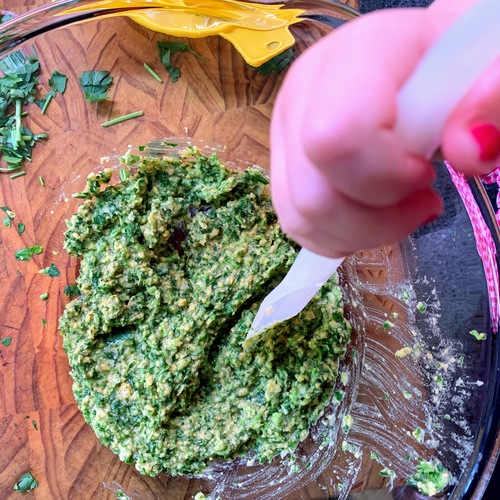 The processed chickpea and herb mix. I had a lot of help from my granddaughter when making this.
Nevertheless I'm really looking forward to the food, both vegetarian and non-vegetarian, and picking up some ideas that I can bring back, reproduce and write about. And if you follow my other social media channels (links at the bottom) expect to see lots of pictures of my daily meals while we're on the go.
In the meantime, and the subject of today's post, I've been making a lot of dishes by chef Yotam Ottolenghi. Ottolenghi has written a number of cookbooks, at least two entirely vegetarian and others containing many vegetarian recipes, and his food seems to combine wonderful elements of all the things a good dish needs (including the infamous 'crunch' element for those Masterchef fans in the crowd) combined with fabulous Middle Eastern flavours of lemon, sumac, za'atar and other herb and spice combinations.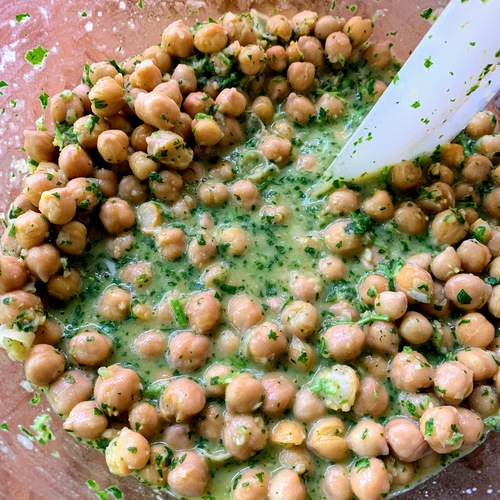 Add the drained chickpeas and reserved liquid to the mix.
If you haven't heard of za'atar, which this recipe requires, it's, a tangy spice blend that contains sumac, coriander, cumin and a few other ingredients. It is incredibly easy to make and you needn't set off on a far and wide hunt – there's a great recipe for za'atar here. Normal chilli flakes are fine instead of the aleppo flakes it calls for, or I've even chucked in a bit of chilli powder sometimes, or just leave it out if you like, and for this recipe which only needs a tablespoon of it in total, just use a teaspoon of each ingredient to make the blend rather than a full batch.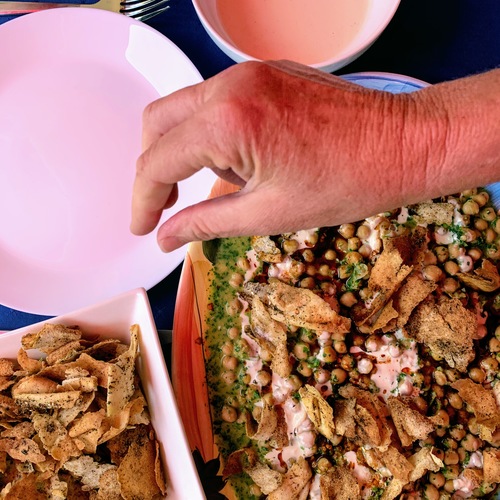 Oi!
The chickpea and herb fatteh itself is a delicious combination of chickpeas blended with herbs and spices, whole chickpeas, tahini sauce and chilli oil, all served with pita bread 'crisps'. You can soak and cook the chickpeas yourself of course (as the original recipe did, in which case you'll need 350 grams of chickpeas), but I've taken the easy route and used tinned chickpeas. I hope you love it as much as my family did.
Comments or questions? Leave a comment below or like my Facebook page.
Follow me on Instagram.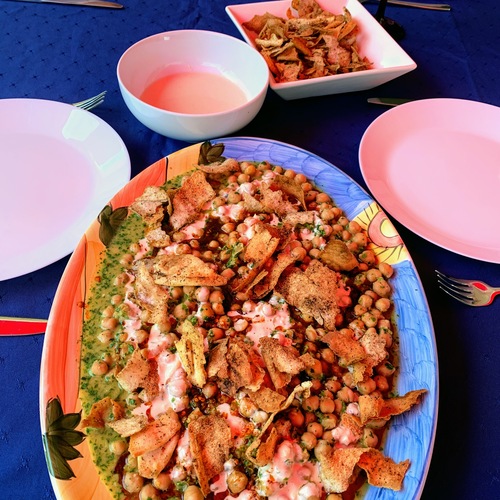 Chickpea and Herb Fatteh
Adapted from an original recipe by Yotam Ottolenghi as appeared in his NY Times column Cooking: About 20 minutes
Serves: 4

Ingredients:
3 400g tins chickpeas, undrained
1-2 Lebanese breads, roughly torn into 3-4 centimetre pieces
5 tablespoons olive oil
1 tablespoon za'atar (see above for link to recipe)
3⁄4 cup (packed) coriander leaves and stems, roughly chopped
3⁄4 cup (packed) parsley leaves and stems, roughly chopped
2-3 spring onions, roughly chopped
2 1⁄2 tablespoons lemon juice
2 cloves garlic, crushed
1 teaspoon ground cumin
Salt and pepper, to taste
Tahini sauce
1⁄3 cup tahini
1 1⁄2 tablespoons lemon juice
1 clove garlic, crushed
Chilli oil
2 1⁄2 tablespoons olive oil
1⁄2 teaspoon chilli flakes
1⁄4 teaspoon sweet paprika
Directions:
Preheat the oven to 190ºC (the oven is only needed to make the pita crisps – I did mine in the airfryer for about eight minutes).
In a bowl, combine the pita with two tablespoons of the olive oil, the za'atar and some salt and pepper. Spread on a tray lined with baking paper and cook in the oven for about 12 minutes until crisp and golden. Remove from the oven and allow to cool.
For the tahini sauce, combine all the ingredients with 1⁄3 cup water and some salt and whisk until smooth. Set aside.
For the chilli oil, heat the oil and chilli flakes gently in a small saucepan until just slightly bubbling. Remove from the heat and stir in the paprika.
Place 2⁄3 cup of the chickpeas, drained, into the bowl of a food processor. Add the coriander, parsley, lemon juice, garlic and cumin, together with some pepper and salt and the remaining three tablespoons of oil. Process until smooth and transfer to a large bowl.
Place the remainder of the chickpeas with their liquid into a microwave safe bowl and heat on high for about four minutes until warmed through. Reserve 3⁄4 cup of the liquid, then drain the rest and add the drained chickpeas and reserved liquid to the bowl with the herb mixture. Mix well.
Transfer the chickpea mixture to a large serving platter, drizzle with the chilli oil and some of the tahini sauce and sprinkle with half the pita crisps. Serve with the remaining tahini sauce and crisps.