Banana and Walnut Loaf with Cinnamon Icing (Vegan)
Jump to Recipe
Happy New Year!
Lately I've been playing around with and making a few vegan recipes. I haven't grown my hair long (those that know me will know that ship has well and truly sailed) or developed an inexplicable fondness for mung beans. I also won't be taking up veganism on a full time basis anytime soon, but my son and daughter-in-law have, which has pushed me into trying a few recipes, and I'm also interested in some of the replacements and substitutions that can be made for common ingredients.
Many vegetarian recipes are intrinsically vegan anyway, or can be made so fairly simply if all that needs to be done is to make a simple substitution such as for butter or milk (with a plant based white fluid for the pedants), and since we eat vegetarian about five times a week anyway it's not a great impost. It's when it comes to the more interesting alternatives, like substitutes for eggs, that I find out some useful information and get to satisfy my scientific curiosity.
The "vegan egg" substitute, to use in cakes and meatballs and the like is ground flaxseed or flaxmeal. Mixed up in a ratio of one tablespoon flaxmeal to two and a half tablespoons water gives one flax egg, roughly equivalent to a normal egg. Leave it sit for 10 minutes and it stiffens up, at which point you can add it in to whatever you're making. Apparently flaxmeal goes rancid relatively quickly, so I've stuck mine in the freezer, as I do with packets of nuts and other things that have a relatively high oil content. The other great thing about this is I've now always got an "egg" in the freezer for those spur of the moment times when I decide to make a cake and don't have eggs.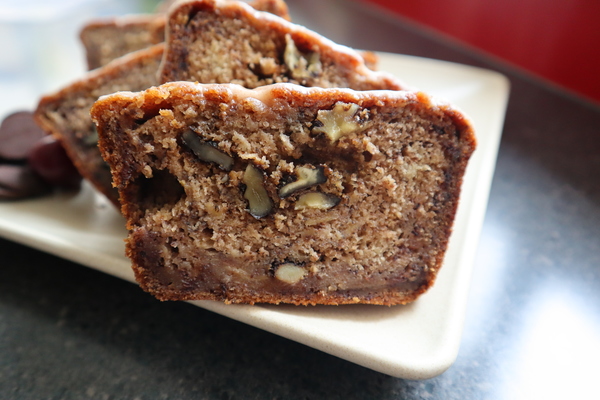 Following a vegan recipe is easy enough, but I thought I'd be brave and try my hand, not without considerable risk, at converting one of my existing and favourite recipes. I've had this recipe for banana loaf for a number of years and can't remember where it came from, but it's easily the best banana cake recipe I've come across. Converting it to vegan was relatively easy, and I'm pleased to add that it didn't suffer at all from the meddling – if anything it may have been a little better. To make the changes I did the following:
Used flax eggs as described above for the normal eggs.
Substituted oil (canola, rice bran or any other light oil would do) instead of butter.
Swapped soy milk for the milk. I also used maple syrup instead of refined sugar, but that's not necessary to make it vegan.
I encourage you to give it a try, and do let me know how you get on. I've also provided the quantities for the original non-vegan version if you want to give it a try. The method is all the same.
Comments or questions? Leave a comment below or like my Facebook page.
Follow me on Instagram.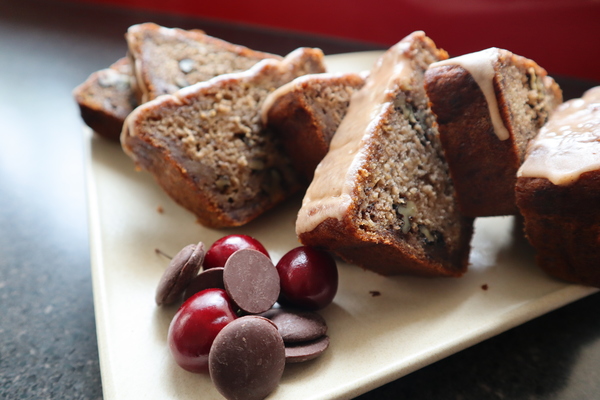 Vegan banana and walnut loaf.
Cooking: About 45 minutes

Ingredients:
1⁄3 cup canola oil (or similar light oil)
1⁄2 cup maple syrup
2 tablespoons flaxmeal, mixed with 100ml water and allowed to stand for 10 minutes
1 1⁄2 cups (185 g) self-raising flour
1 teaspoon cinnamon
3⁄4 teaspoon bi-carbonate of soda
1⁄2 cup soy milk
3⁄4 cup mashed banana (2-3)
1⁄2 cup walnuts, roughly chopped.
Cinnamon icing
1 cup (160g) icing sugar
1⁄4 teaspoon cinnamon
1 1⁄2 tablespoons lemon juice
Optional: To make it non-vegan substitute:
100g butter for oil
3⁄4 cup (165 g) caster sugar for maple syrup
2 eggs, beaten lightly for flax egg
1⁄2 cup millk for soy milk
Directions:
Preheat oven to 180°C. Grease and line base and two long sides of 11 cm x 25 cm loaf pan.
Mix the oil and maple syrup in a medium bowl, then mix in the flax egg. Fold in the combined sifted flour, cinnamon and soda, then the milk and banana.
Put into pan and bake for about 45 minutes until cooked. Stand for 5 minutes before turning out and cooling on a wire rack.
Once completely cool, combine all the icing ingredients in a small bowl to a thin consistency. Spread over cake and stand until set before slicing.