Tofu Dumplings
Jump to Recipe
Do you like tofu? I don't! It's commonly referred to in our house as 'stinkin' tofu'. Perhaps more correctly, I haven't found recipes that can make tofu appealing. Ms Onion (my significant other) and I try to eat vegetarian meals about three to four times a week, and I've tried and tried with tofu, but alas to no avail.
Eating vegetarian is a bit of a mixed bag. It's good for my health, because despite weighing about 70kg in steelcap boots, my cholesterol is genetically sky high. Nevertheless, I never find the same enjoyment or interest from cooking things that don't include sizzling a bit of meat in a pan. My Dad, born in 1924, never really grasped the vegetarian concept – his idea of vegetarian meant something without a chunk of meat in it. I can remember going there for dinner and Dad proudly proclaiming 'we're eating vegetarian tonight', which turned out to be a pasta dish containing bacon! For that reason I have created two categories in the software I use to keep recipes – 'vegetarian' and 'almost vegetarian'.
All that said, my wonderful daughter-in-law (whose blog you can read here) has shown me that tofu need not be an item of revulsion. We went to their place on the promise of her making dumplings for dinner. On trying them Ms Onion proclaimed how delicious they were, and I completely agreed, before they spilt the beans that the primary ingredient was tofu. So apparently making tofu edible is possible, and I've made these a number of times since. The inclusion of finger is not necessary if you're careful with your knife, but ginger is a great addition! Stupid autocorrect.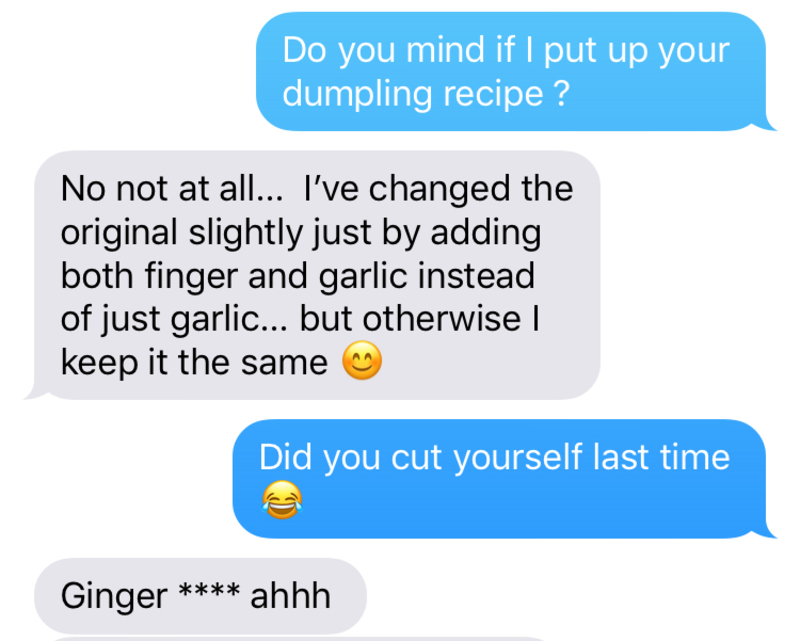 Any steamer will do. I bought a two layer bamboo steamer, which you can get dirt cheap, but if you've got a steel steamer in amongst your pan set that will do equally well.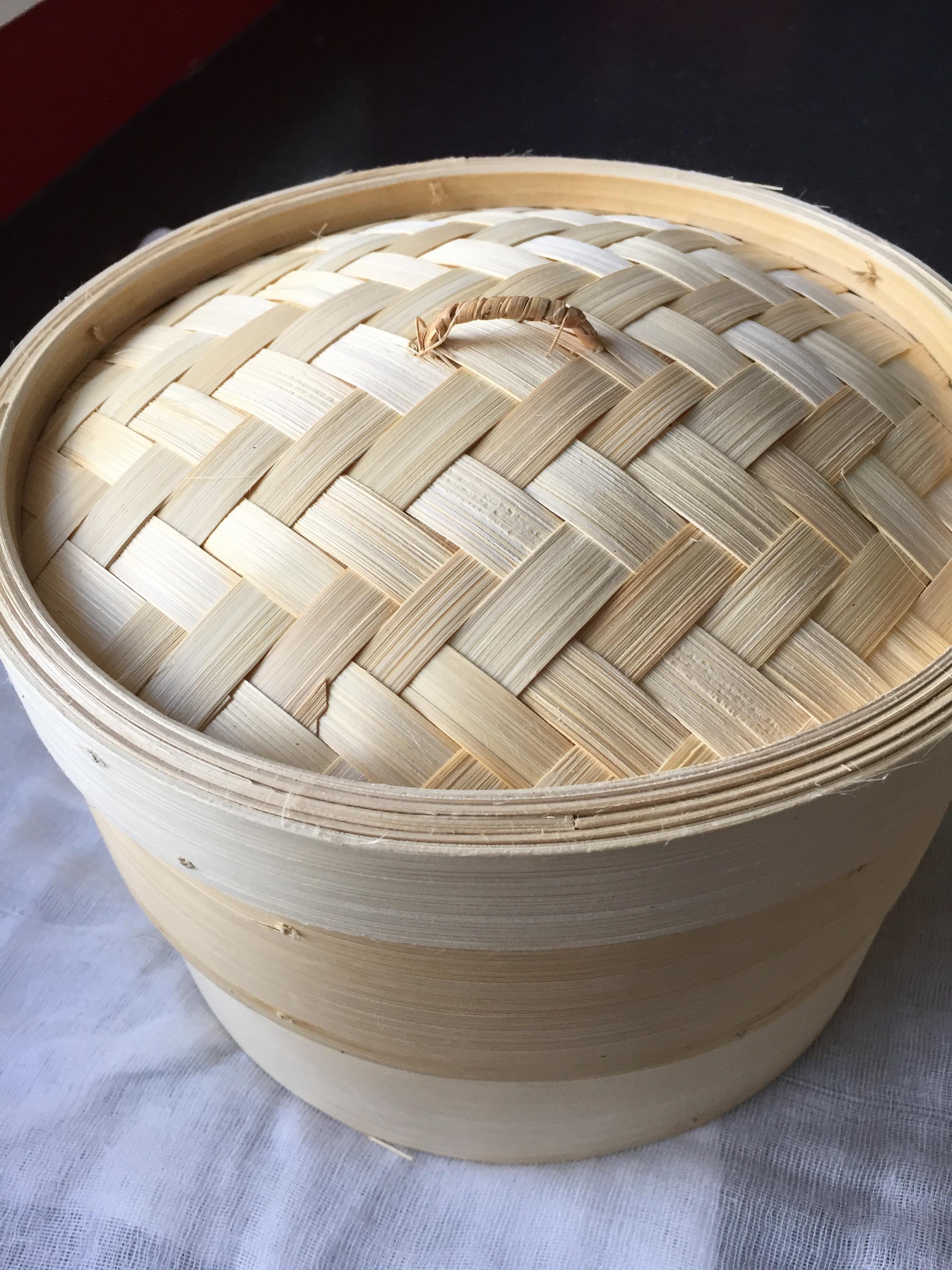 Either way, dumpling wrappers stick like crazy, and the best way to overcome this is to revisit your kindergarten days and make a modified cartouche. A cartouche, in cooking terms, is a circle of baking paper or greaseproof paper that is normally used to cover the contents of a pan when simmering or poaching, acting as a temporary lid. With some judicious cutting of a fancy pattern, you can make one for steaming – see how to do it here. Alternatively line the steamer with a lettuce leaf, but where's the fun in that?
While the tofu is pressing go and have a snooze with your dog(s) or something. Believe it or not, there's two whippets in the photo below.
Comments or questions? Like my Facebook page.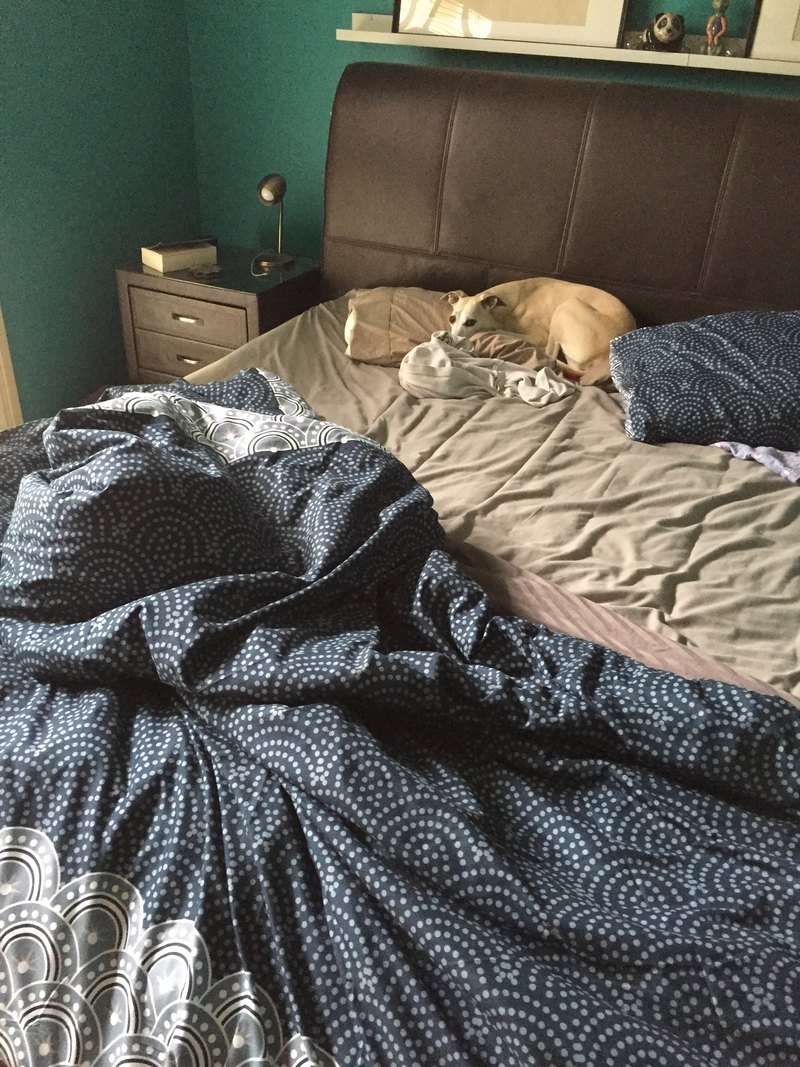 Tofu Dumplings
Cooking: 15 minutes
Serves: 4
Ingredients
200g firm tofu
1 teaspoon sesame oil
1 teaspoon crushed garlic
1 teaspoon crushed ginger
1 tablespoon soy sauce
1 tablespoon rice wine vinegar
½ -1 tablespoon honey (to taste)
1 teaspoon sesame seeds
3 – 4 spring onions, finely chopped
Dumpling or wonton wrappers
Soy sauce, extra to serve
Directions
Press the tofu to remove excess moisture. To do this, drain it, wrap it in paper towel or a clean dish cloth and put the block between two plates. Add some sort of a weight to the top like a tin of beans, leave it for about 30 minutes to an hour and drain off the liquid.
While the tofu is pressing, put about 3cm of water in a saucepan and bring to the boil
Heat a wok over medium-high heat, add the sesame oil and stir-fry the garlic and ginger for about 10-20 seconds until fragrant.
Add the tofu and stir-fry, breaking it up until it begins to turn brown.
Add the soy, vinegar and honey and stir-fry until the liquid is absorbed. Stir in the sesame seeds and spring onions.
Fill and seal the dumpling wrappers, put a steamer over the water and steam for eight minutes
Serve with soy sauce.