On pastry, quiche and cookbooks.
Jump to Recipe
I'm not working from a large or statistically valid sample size here, but I think that by the standards of most home cooks these days I have a lot of cookbooks, somewhere close to 100 and growing. To this you can add a stack of magazines, a file full of clippings and handwritten things, additional electronic recipes I keep in my recipe software, and then there's the internet. However, the subject of my interest here today is cookbooks rather than these ancillary sources, because (apart from witty, well written blogs <cough, cough>) cookbooks can offer insights and entertainment not available by other means, as well as other tangible and intangible value that appeals to me.
In any decent bookstore these days there is usually a large cookbook section, testament to the rise of food in today's society as more than just nutrition but also a pastime and lifestyle, and perhaps testament also to the outstanding success of the TV chefs that began in earnest in the late 1980s. I wonder about the success rates of many of these books and whether, despite appearances, cookbook sales are on the rise or actually in decline like a lot of other hardcopy. Out of interest in writing this, because I thought I would offer you my favourite quiche recipe at the end, I googled 'quiche recipe' and got about 76.2 million (yes million) results. In the interest of making it a bit more manageable and being more specific I made it 'quiche Lorraine recipe' and got about 6.1 million. Given these sorts of numbers you'd reckon there were one or two good ones amongst them, raising the question of why anyone would buy a cookbook to get a quiche recipe (or any recipe for that matter)?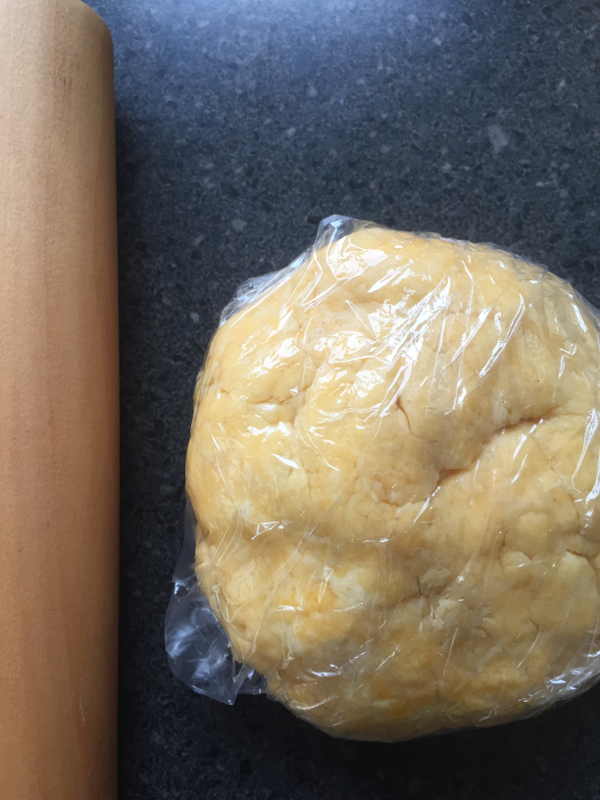 Wrap the pastry in clingwrap and rest in the fridge for as long as possible.
The answer is of course that you wouldn't. If I hear about 'di pan ji' (a chicken dish from Northern China) or try it in a restaurant there's no way I'm going to hunt down and buy a book to get a recipe, but rather I'll find one on the internet and give it a go. If it turns out to be a bit below par I get a different one, and if it's good I'll then tweak it to suit my tastes. But cookbooks for me provide more than just recipes, and of course if nothing else they limit the dilemma of choice provided by 6.1 million quiche Lorraine recipes.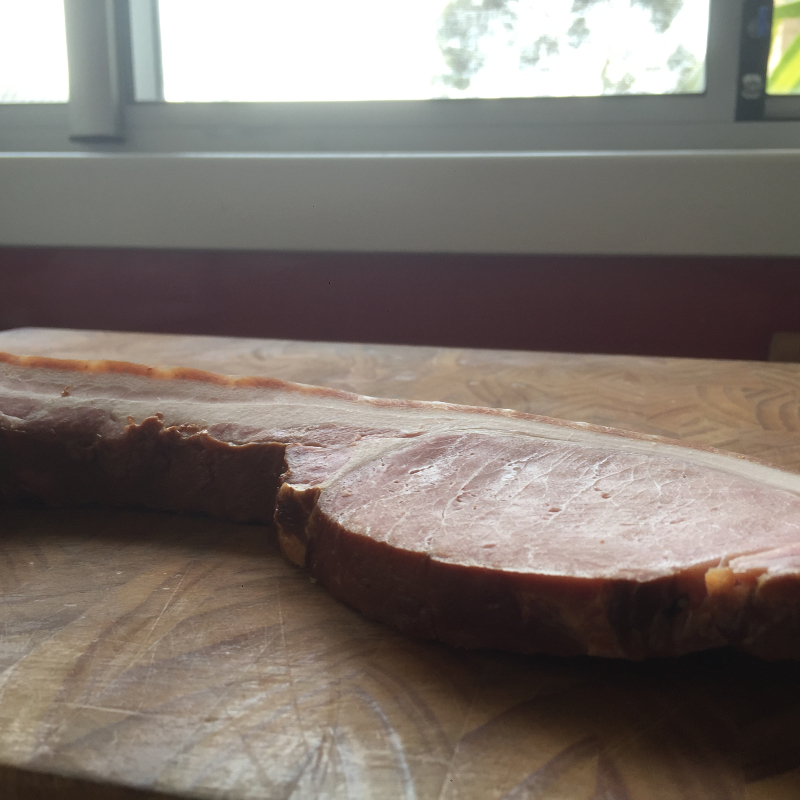 If you have a good relationship with your butcher get them to cut a thick chunk of bacon for you and cut it into cubes.
A couple of years ago my son bought me a contemporary American Deep South cookbook[1] for my birthday. One day a few months later he happened to be visiting and sat looking through the book in more detail, and he said to me 'I'm sorry about that book I bought you Dad - it's not very good'. 'On the contrary' was my response - I like it because I like to read both the narrative and the recipes, the latter in particular being something I wouldn't normally have any exposure to or look at myself. I like it for its intrinsic value and interest, even though I'm unlikely to ever make any more than perhaps one or two things out of it, something that is true of probably the vast majority of cookbooks I own. Nigella Lawson is my favourite TV cook and I've got a couple of her books, including perhaps her most well-known work 'How To Eat'. That said I rarely make any of her recipes because I've generally found them not quite to my taste, but if you're after a great and very amusing cover-to-cover read that is so much more than a collection of recipes give 'How To Eat' a try.
I also like old cookbooks, by which I mean ones that pre-date the Second World War and preferably older. Some years ago I borrowed from the library a large book called 'Mrs Beeton's Household Management', having no idea at the time of the significance of Isabella Beeton or her seminal works. Subsequently Ms Onion found a copy in an antique bookstore, as well as another called 'Mrs Beeton's Every-Day Cookery And Housekeeping Book'. Both date from around 1900 and are a couple of my treasured possessions, but again by modern standards the recipes are pretty bland and you'd be unlikely to make too many things from them, unless you think you'd like to knock up a batch of gruel or try your hand at larded lamb's sweetbreads!
Roll and prick the pastry and brush with eggwhite.
A happy combination of one of my favourite TV cooks whose books I like and make a lot of recipes from is the wonderful Rachel Khoo. My favourite book of hers is her 'Kitchen Notebook' but this recipe for Quiche Lorraine is adapted from 'The Little Paris Kitchen', and I present it here less because of the quiche recipe (which is very good but as we've seen they're not hard to come by) but because of the method she used to make shortcrust pastry. Prior to this my pastry making had been a bit hit and miss, but now I always make it this way because it simplifies the process immensely and never fails to make great short pastry. The purists would probably roll their eyes at doing it this way but I figure if it's good enough for Rachel I'm going with it. If you back yourself enough to make pastry in a food processor without overworking the flour and making it tough then go for it, but otherwise I hope you too will discover the benefits of this method.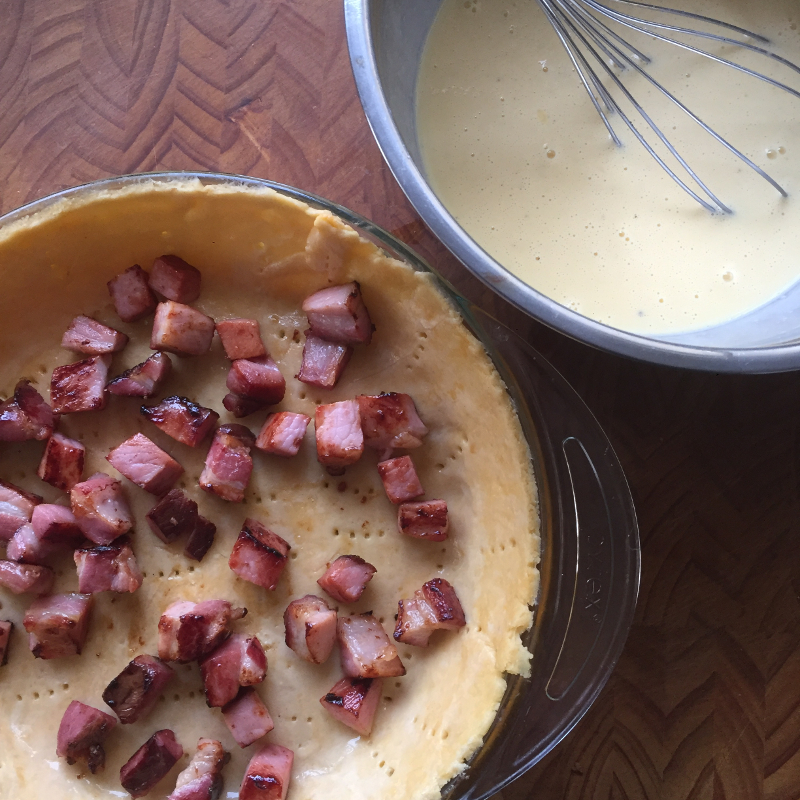 Add the bacon cubes and pour in the egg mixture.
Leftover from this recipe you will have four eggwhites. Use one or two of them to brush the pastry and put the remainder in a small ziplock bag, squeeze out the air, label it and pop them in the freezer to use for meringues and such at a later date. They last forever but be aware if you collect too many of them your freezer might start to look a bit like a sperm bank, as Nigella claims hers does. Try getting that information anywhere other than in a cookbook!
Comments or questions? Like my Facebook page.
[1] If you're interested the book reference is: McDonald, Brad (2016); 'Deep South - New Southern Cooking', Quadrille Publishing, London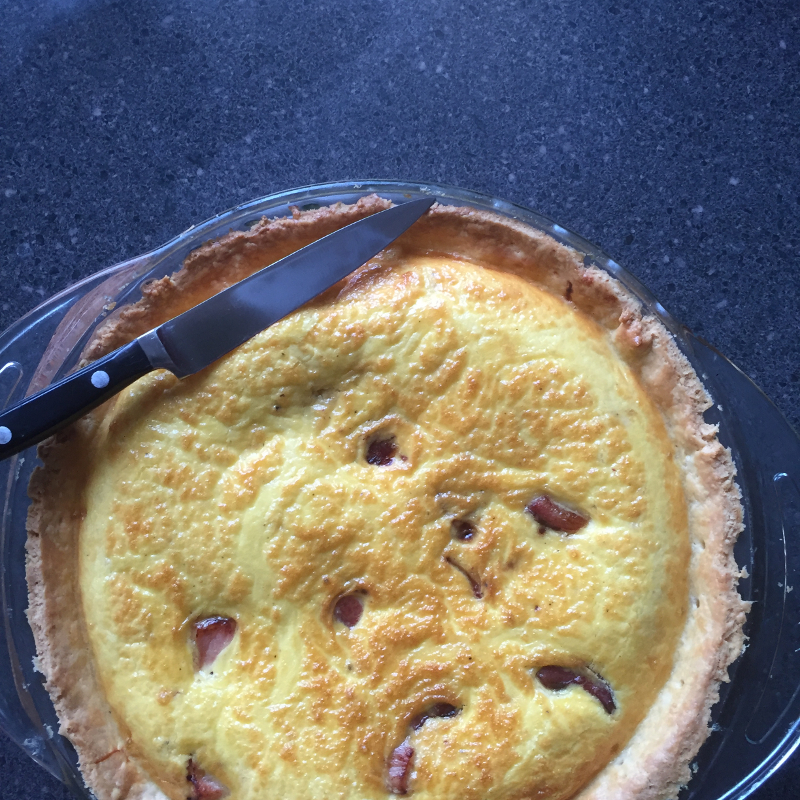 Quiche
Cooking: 30-40 minutes
Serves: 4

Ingredients:
Pastry:
90g soft butter or margarine
1 teaspoon sugar
Pinch of salt
180g plain flour
2 egg yolks
ice water
Filling:
200g bacon, chopped, or bacon cubes
4 eggs and 2 egg yolks
300ml thickened cream
Salt and pepper to taste
Directions
Before you start making the pastry, put about half a dozen ice cubes in a glass and cover with water to provide the ice water later.
Put the butter, sugar and salt in a bowl and beat with a wooden spoon until it turns pale and creamy and is really soft.
Stir in the flour until the mixture looks like a breadcrumb mix. If you've made pastry by the traditional rubbing-in method before then it should look about the same.
Add the egg yolks and 2 tablespoons ice water and mix to combine, then use your hands to just bring it all together and knead slightly.
Wrap the pastry in clingwrap and put it in the fridge overnight if possible, but an hour at least.
Take the pastry out of the fridge about 30 minutes before you're ready to use it, then roll it out between two sheets of baking paper to fit the base and sides of a 24cm quiche tin or pie dish. Prick all over with a fork and brush with eggwhite. If you can remember (I rarely do) put it back in the fridge while you make the filling.
Preheat the oven to 180°C.
Fry the bacon in a small pan until brown all over and remove from the heat.
Lightly beat the eggs and egg yolks in a bowl, then add the cream, salt and pepper and beat until well combined.
Spread the bacon across the pastry base and then pour in the egg mixture.
Bake in the oven for 30-40 minutes until nicely browned and set.
Serve with some salad leaves and a light dressing.