Pepper Chicken Curry
Jump to Recipe
If you've been following along closely and paying attention you've probably figured out I like a curry, and more specifically Indian curries and Indian style food in general. In these days of globalisation, world commodity markets and modern efficient transport I find it easy to take for granted the spices I use every day, but it wasn't always the case.
This recipe, which I've adapted from another created by one of this years Masterchef contestants, contains several spices that are pretty commonplace today and that I use all the time, such as pepper (duh..), cumin and mustard seeds, and perhaps a little less well-known fenugreek. Read up on the history of any one of these and you're likely to find a fascinating tale of ancient trade, medieval exploration and fabulous prices, as well as the seemingly inevitable competition and alliances between the Spanish, Portugese, British and Dutch.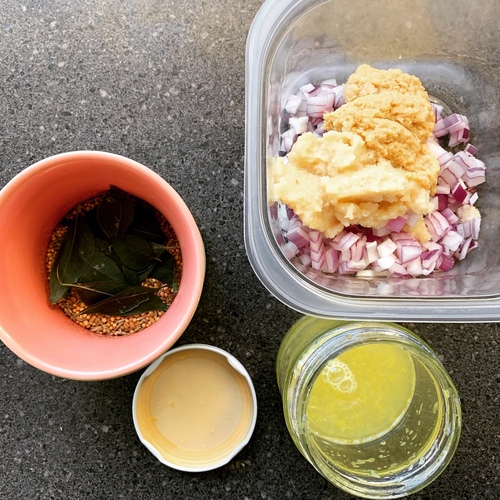 Like most recipes a bit of 'mise en place' always helps, especially if you're going to be frying.
The tale of pepper is no less interesting and has pretty much all the common elements. Originally from and native to Southern India, evidence of trade with other nations has been found in Ancient Egypt, where peppercorns were discovered stuffed up the nostrils of the mummified Ramesses II. I guess by doing so they could at least be certain he was dead if he didn't sneeze! The Romans certainly traded in pepper, but it all really took off in about the 15th century when Vasco de Gama was despatched to find a sea route to India on behalf of the Portugese king. Up to then, and for quite a while afterwards, pepper was ridiculously expensive until the Dutch and the British got involved in the 17th century and prices started to come down.
Pepper is a great ingredient and I use it a lot – there's not many savoury things I cook that a few grinds of pepper don't go into. It gives that slight spicy note, and in sufficient quantity it adds a bit of heat that is different and I think more subtle than that which comes from using chilli. On that note, don't be too alarmed by the two tablespoons of cracked peppercorns in this recipe, because it won't have that fiery heat you might think.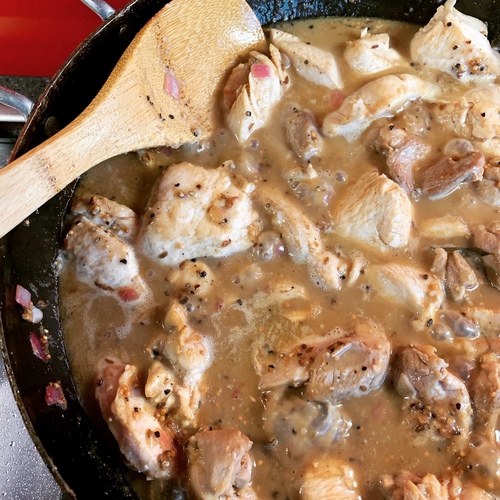 Simmer the curry gently to reduce the liquids and let the sauce get a little sticky.
This recipe also features lemon, and the combination of lemon and pepper is one of those pairings seemingly just made to go together, like chocolate and orange or lamb and rosemary. As well as savoury, lemon and pepper work well together in sweet dishes too (stand by for my lemon pepper biscuits in a future blog).
You could serve this dish with some Indian breads such as naan, or some rice. There's a lot of 'complex' versions of rice getting around, but often when cooking rice, especially for curries, I just throw in some whole spices such as a teaspoon each of caraway and cumin seeds, or perhaps grate in some lemon rind and ground black pepper to keep the flavour pairing going. I served mine with some raita to provide some cooling effect with the yoghurt and a bit of crunch with the vegetables.
Comments or questions? Leave a comment below or like my Facebook page.
Follow me on Instagram.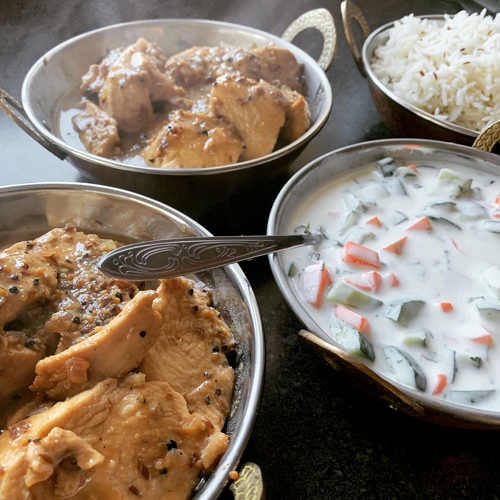 Pepper Chicken Curry
Cooking: About 15 minutes
Serves: 4
Notes: For the mustard seeds use brown or yellow or whatever you have – it doesn't matter.
Curry leaves are easily available from Indian food stores, in the fridge section. They keep really well in the freezer.
Ingredients:
2 chicken breasts, sliced into 3-4 pieces
2 chicken thigh fillets, sliced into 3-4 pieces
3 tbsp vegetable oil
1 tbsp cumin seeds
1 tbsp mustard seeds
1 tsp fenugreek seeds
10-12 curry leaves
1⁄2 red onion, diced
4 cloves garlic, finely diced
6cm piece ginger, finely grated
2 tbsp cracked black peppercorns
2 tsp ground coriander
zest of 2 lemons, and juice of 1
1 cup chicken stock
1 tbsp brown sugar
2 tbsp chopped coriander leaves
Directions
Heat the oil in a frypan or karahi over high heat. Fry the chicken portions in two or three batches until just golden on both sides. Remove to a plate and set aside.
Reduce the heat to low and add the cumin, mustard seeds, fenugreek seeds and curry leaves to the pan (add a touch more oil if needed) and toast until fragrant.
Add the onion, garlic and ginger and cook until soft. Add the pepper and coriander and stir for a minute or two, then add the lemon juice and zest.
Return the chicken to the pan for another few minutes, stirring to ensure it is covered in the spice mix. Add the chicken stock and sugar, and some salt to taste.
Bring to the boil, then simmer gently until the liquid has reduced and the chicken is cooked through.