Bean and chorizo stew
Jump to Recipe
It's MasterChef time! MasterChef returned to our our TV screens about 4 weeks ago and I freely admit to it being my one concession to reality TV. From what I can tell it differs from others by being a more supportive environment that is about the food and not about the contestants trying to "out-bitch" each other (and I include the men in that). Anyway, MC is what's been chewing up some of my evening time lately.
I get a lot of ideas from MC and download quite a few of their recipes, although I do wish they wouldn't put up only winning recipes, as at least some of the others look of more interest to me. I rarely make the whole recipe with the umpteen little side bits, garnishes and sauces but I often make the core element and maybe one of the other things,or pair it with something a little bit different. Doing this makes me wonder what these things really taste like on MC when they've been made by a contestant under time pressure. Many certainly look delicious but until they introduce taste-o-vision that's as good as it's going to get. From what little does leak out about the show we know, for example, that by the time the judges are trying the finished dish it is almost certainly cold.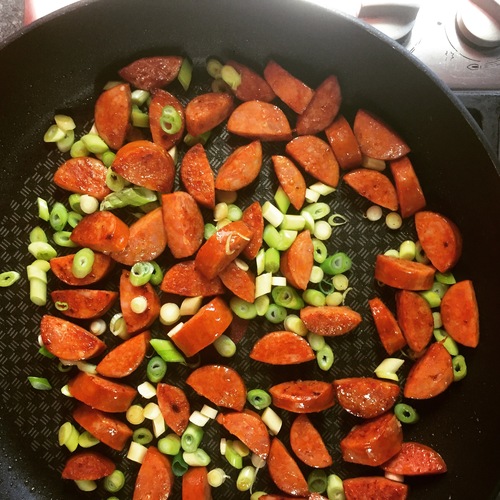 Fry the chorizo and onion lightly until the chorizo browns and crisps up a bit.
Like the contestants on MC I'm a home cook, and with few exceptions the recipes I have made from there are good but I don't know that they are much better than the typical sort of stuff you can get out of a good cookbook or even the magazine they give away each month at Coles (which is very good and has some great ideas, by the way). Or dare I say it, right here!
The show is also much about giving old favourites that MC makeover, but apart from throwing on some parsley or pomegranate seeds that's about where my creativeness ends. This then gets me wondering what other creative touches I might add to a dish that would make it MC worthy, bearing in mind that at home I don't want to add a significant overhead of either time or dishes to my evening cook.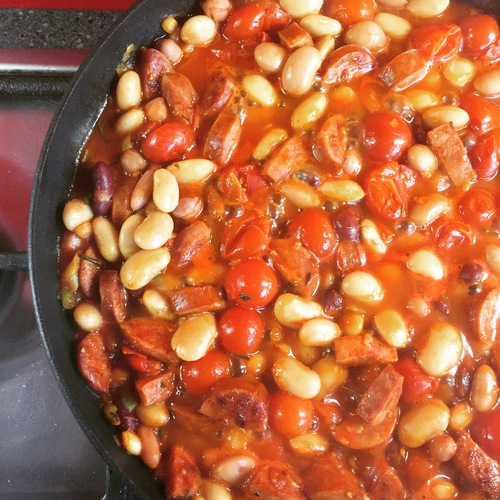 Simmer with the beans and tomatoes for 10-15 minutes.
This recipe, adapted from one by Rachel Khoo, has I think the elements of what would make a great MC dish, which in the final analysis is all about taste. I think I might get a bit caned for presentation and not having that MC flair, but it is easy and quick, which is probably more important when knocking up a weeknight dinner. It also utilises a few ingredients that are staples in our house – tinned beans, tomatoes and chorizo. Chorizo in particular is very versatile and adds great flavour to many dishes, especially if you're trying to reduce your meat intake but still need that bit of a hit.
I hope you enjoy it, and if you're a MasterChef fan enjoy season 11. Let me know if you've tried making any of their dishes.
Comments or questions? Leave a comment below or like my Facebook page.
Follow me on Instagram.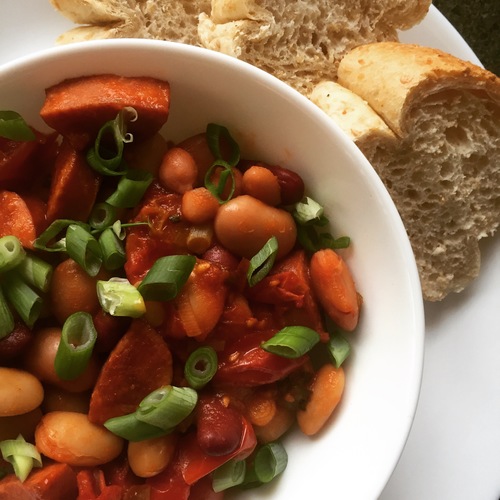 Make it look as 'MasterChefie' as you can. Or not!
Bean and chorizo stew
Cooking: About 15 minutes
Serves: 4

Ingredients:
1 tablespoon olive oil
2 chorizo, halved and sliced
6 spring onions, sliced into rounds
1 tablespoon rosemary leaves, finely chopped
1 teaspoon smoked sweet paprika
1 x 400g tin 4 bean mix (or use any bean of your choice)
1 x 400g tin butter beans
1 x 400g tin cherry tomatoes (or chopped tomatoes)
2 tablespoons cider vinegar
Crusty bread, to serve
Directions
Heat half the oil in a frying pan over medium high heat Add the chorizo and cook for about 5 minutes until it is browned and begins to get crisp. Add the white parts of the spring onions, rosemary, paprika and beans and fry for another 2-3 minutes.
Add the cider vinegar, turn down the heat and simmer gently for 5 minutes.
Add the tomatoes and simmer for a further 10 minutes. Add salt and pepper as required.
Serve garnished with the reserved green part of the spring onions and some crusty bread.